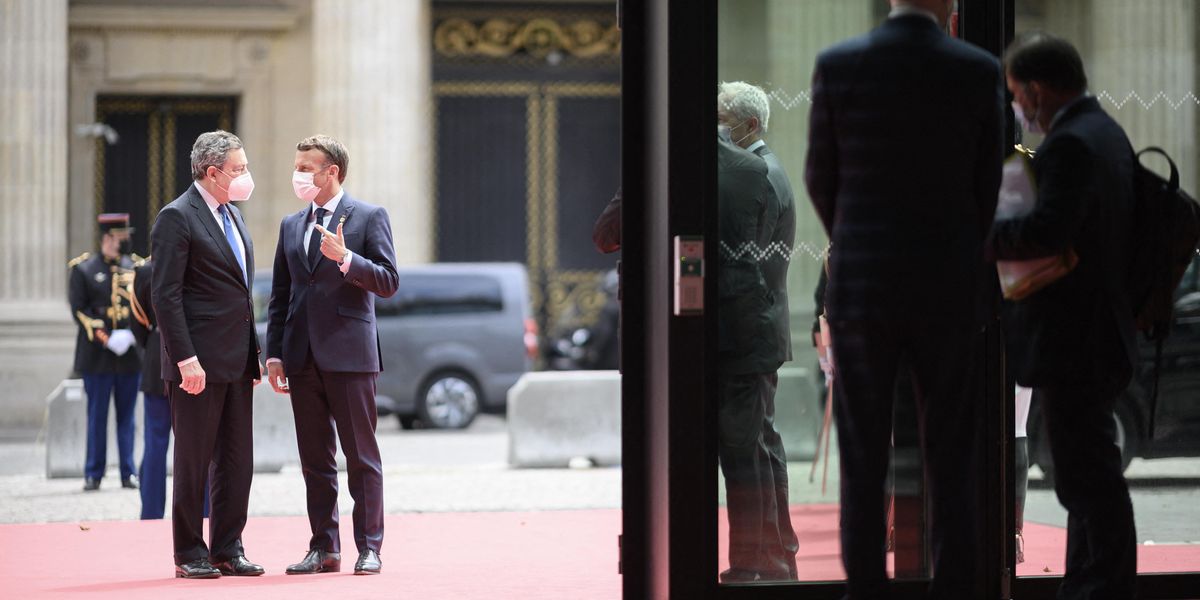 After Merkel, Macron and Draghi will try to relax debt rules in Europe
-Analysis-
BERLIN – In the coming weeks – maybe even months – a power vacuum will reign in Berlin. But just like their colleagues in the scientific world, political observers know that nature abhors a vacuum. It's only a matter of time, in other words, until the void is filled.
Do the recent German elections mark the end of the country's leadership role in the European Union? The ongoing coalition negotiations – which seem likely to drag on for some time – will force Berlin and Brussels to press a pause. Others, in the meantime, will not be inclined to sit still and wait.
French President Emmanuel Macron sees himself as the natural leader of an EU that has lost the center of gravity that Merkel had long anticipated. Even as his chancellery drew to a close, Macron was already preparing to assume the presidency of the Council of the EU, which begins in January and coincides with France's own elections.
Italy will not replace Germany
The Elysée is already drawing up Macron's European report card. They recently pointed out that more than half of the 60 proposals put forward by the French president in his speech at the Sorbonne in September 2017 were successful.
"This speech was the backbone of our European policy," explains one of Macron's advisers.
Macron will not be alone when he takes on this new leadership role. He found an ally in Italian Prime Minister Mario Draghi, so much so that, when Draghi was elected earlier this year, the Financial Time speculated on "the new EU power couple". They spoke of a new axis of power between Rome and Paris, to replace the current driving forces of Germany and France. After "Mercron", can we now expect a "Dracron" axis?
Draghi will play a key role
Former French Prime Minister Manuel Valls also spoke of a "key role" for Rome and Paris. "At this stage of the power vacuum, the leadership role within the EU will fall to Macron and Mario Draghi," he said in an interview last Sunday.
Dominique Moïsi, French political scientist from the Institut Montaigne think tank, sees things a little differently. "Draghi is kind of a star and he will play a key role, but Italy will not replace Germany," he said.
Sandro Gozi is another politician who sees it as an "opportune moment" to seize. In his former role as the Italian government's Under-Secretary for European Affairs, Gozi was tasked with negotiating the Quirinal Treaty, a bilateral agreement between Italy and France, modeled on the 1963 Élysée Treaty between the France and West Germany and named after the Quirinal Palace in Rome, one of the three official residences of the Italian president.
It was at a difficult moment in Franco-Italian relations, when Luigi Di Maio, then Italian Deputy Prime Minister, had visited France to show his support for the protesters of the yellow vests. The Quirinal Treaty was put on ice and Gozi changed sides, becoming a European adviser at the Elysee Palace. Today, he is a member of the European Parliament, representing France.
Draghi's electoral victory was a stroke of luck for Macron.
"No one in Rome or Paris wants to replace the Franco-German axis, but within the EU we need to strengthen other relations that complement it and establish new synergies," Gozi said in an interview with Die welt. He is convinced that "the transformation of the EU will be based on three powers: Germany, France and Italy".
Draghi and Macron beyond Maastricht
One thing is certain: Draghi's electoral victory was a fluke for Macron. In early September, the two had dinner together in a three-star restaurant in Marseille to celebrate Draghi's birthday. They have a lot in common: both are resolutely pro-European, former bankers, skilled negotiators and convinced that the relaxation of the EU's strict national debt policies is inevitable.
Both were also among the signatories of a letter published at the start of the pandemic in which nine European countries called for a "common debt instrument", which quickly became a central element in discussions around the Stability Pact.
But Draghi and Macron want to go beyond Next Generation EU, the post-covid economic stimulus fund. They believe that the Maastricht Treaty is no longer suited to its purpose and believe that economic and political progress within the EU will only be possible by relaxing the rules on national debt. As the former president of the European Central Bank, which reformed the EU's monetary policy, Draghi seems almost predestined for this role.
With Italy occupying the rotating G20 presidency this year, Draghi and Macron are – or soon will be – in positions of power on the world stage. Rome and Paris hope to finally sign the ambitious Quirinal Treaty before the end of this year.
Gozi believes that close cooperation between France and Italy will ensure that these issues are high on the EU's agenda. "It is a response to difficult geopolitical demands," he said.
From your Articles site
Related articles on the web